Ready or not, dinner comes back around every twenty-four hours. Despite this fact many of us feel a sense of dread as suppertime approaches. We often find that we're at a loss for ideas, ingredients, or even the inclination to make another meal. The only thing we may really lack, however, is a meal plan. Thankfully, you can use this meal planning calendar to make deciding on dinner delightfully easy.
Some of the links in this post are affiliate links. If you click through and make a purchase, I will earn a commission, but that commission will not increase the price you pay. As an Amazon Associate, I earn from qualifying purchases. Please read my disclosure policy to learn more.
5 Reasons to Create a Meal Plan
If you're not in the habit of using a meal plan, these five benefits may pleasantly surprise you. From reduced stress to saving money, there are many reasons to start using a meal plan.
1. Know what's for dinner every night.
The most obvious benefit of meal planning is always knowing what's for dinner. Now that we have a meal plan, last-minute dinner decisions no longer plague us. We simply check our plan the evening before in case anything needs to be thawed ahead of time.
2. Schedule easy meals on busy nights.
Our busy nights tend to repeat on a weekly basis given our current family activities. When we have to be at an early evening activity, we opt for meals that we can prepare ahead of time and cook quickly on the stovetop or make in the crock pot. Since we know these activities in advance, we opt for our easiest meals on those nights.
3. Dine out less.
Because we have a meal plan that works with our schedule, we seldom need to eat on the run. With our family of six, this is a huge savings in our monthly budget. It's also usually much healthier than relying on fast food.
Since beginning to use freezer meals in 2021, I now ensure that our freezer always has an easy meal that can be ready within an hour of arriving home. Our family favorite is homemade calzones that go straight from the freezer to the oven. Rather than schedule these in our meal plan, we usually save them for days when unexpected circumstances keep us from sticking to our original plan.
4. Go grocery shopping less often.
We don't spend a lot of time grocery shopping. Toward the end of each month, we make a meal plan for the following month. That's right, we make a plan for an entire month. Years ago I would have never thought this possible for our family, but now I depend on this method.
Once we have a meal plan, we make a list and buy the items that we'll need for that month. The exceptions, of course, are perishable items which we do buy as needed during the month. Because we rely on freezer meals for about half of our meal plan, we can buy all of those ingredients at one time and then use them up over the next three months.
5. Buy only what you need and reduce food waste.
Our monthly meal plan helps us buy only foods that we actually need. We know exactly what we plan to eat, so we aren't guessing on ingredients and amounts.
How to Create a Meal Plan
Now that you know the benefits of using a meal plan, here are some helpful tips for creating a plan that works for your family.
1. Choose a block of time.
Popular meal plan options are one week and two weeks. We've found that extending our meal plan to a full month works really well for us. Since we also budget our money a month in advance, creating a monthly meal plan fits well with our routine.
A one-week meal plan requires more frequent planning, but this option is a great starting point. It's also helpful if your schedule changes significantly from week to week.
A two-week meal plan works well for many families. It's easy to repeat while still keeping enough variety of meals.
While a one-month meal plan may seem ambitious at first, it is such a time saver that it's worth trying out. We've found that this option works best for our family.
2. Print a blank calendar.
Download this blank meal planning calendar and print off the pages that you need. Feel free to use any calendar system that works for you including digital calendars.
3. Fill in known activities.
To succeed at meal planning, you must account for the activities that can interfere with making or eating dinner. For our family these tend to be afternoon and evening activities.
On the downloadable meal plan calendar, I've included a light-gray section for each date. Use this section to list these activities. I prefer to use erasable red pen for this section.
4. Make a list of favorite meals.
When we find a healthy meal that our family enjoys, we add it to our meal list. The meals that are easy to make and use common, healthy ingredients are the ones we make most often. I started making freezer meals in 2021, and many of those fit this bill.
Read More: Freezer Meals – Simplify Your Dinner Prep
5. Fill in a dinner meal for each date on the calendar.
Once you've added all of your known activities to your calendar and have a list of dinner ideas, you're ready to add meals to your calendar. On the downloadable meal plan calendar, I use erasable blue pen to add our meals to the white section of each date.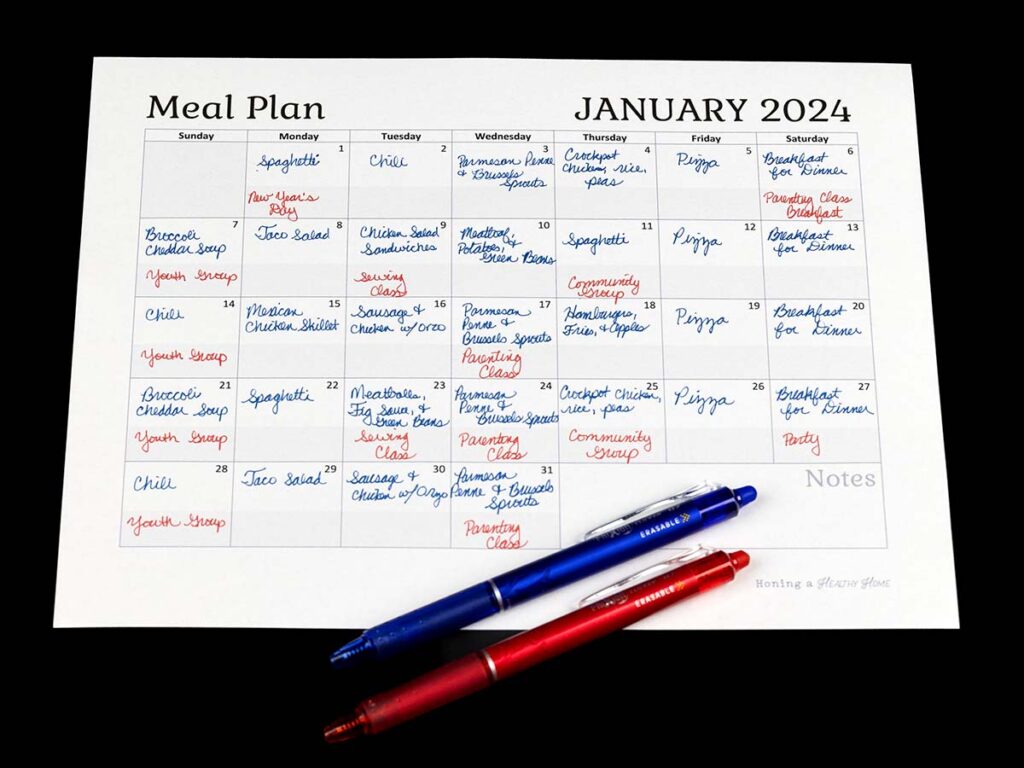 Tip 1: Repeat meals often.
Meal planning is so much simpler when dinners are repeated on a regular basis. We tend to serve similar meals on certain days of the week.
Sundays – This is a great day for a crockpot freezer meal. In fall and winter, this is often a soup like broccoli cheddar or chili.
Mondays and Thursdays – My husband prepares quick-prep meals on these nights like spaghetti and taco salad.
Tuesdays and Wednesdays – For these mid-week meals, I use some of the freezer meals that I previously prepared. This saves time when we have late afternoon or evening activities.
Fridays – Since I was a child, Fridays have always been pizza and family night. We've continued this tradition with our family. We love the cauliflower crust pizzas from Costco (all three varieties), and I feel like they are healthy enough for our family to enjoy on a regular basis.
Saturdays – Somehow, we fell into a groove of making breakfast for dinner on Saturdays. Given that this is the most variable day in our schedule, relying on an easy breakfast meal has made Saturday dinners a breeze. We often just throw something together without putting a lot of thought into it ahead of time.
Tip 2: Take advantage of leftovers.
If your family enjoys leftovers, this is an excellent way to extend your meal plan. As our four kids grow, we're finding it harder to have enough leftovers for a second meal. However, leftovers were a great option when our kids had smaller appetites. Now, our leftovers become lunches during the week.
Tip 3: Remain flexible.
Finally, be flexible with meal planning. One reason I use erasable pens is to make it possible to change the calendar when plans change. We're able to stick to our calendar the majority of time, but we also roll with any changes that pop up.
If life gets too hectic, I also pause our meal plan from time to time. The Christmas season is a perfect example. Rather than stress about filling in the plan, I just kept a list of meals we had ingredients for. We simply made the ones that fit our schedule day-by-day since it was subject to change in the busyness of the season.
6. Use your meal plan to create a grocery list.
Once you have your meal plan, whether it is for one week, two weeks, or even an entire month, use it to create your grocery list. By knowing which meals are coming up, you can take stock of the main ingredients required for meals and then check your spices, condiments, and other additions.
Because we now rely on freezer meals for about half of our dinners, much of my grocery list centers on these meals when it's time to make a new batch every two to three months. When my freezer is already well stocked with meals, the rest of the list falls into place pretty easily.
What about meal plans for breakfast and lunch?
You can certainly create a meal plan for breakfast and lunch in addition to dinner. Feel free to print off additional calendar pages and fill in a separate one for each mealtime. This way you'll have plenty of room to list the activities that may interfere with that mealtime and thus plan accordingly.
Personally, I choose to eat the same thing for breakfast every morning – homemade yogurt with chocolate topping and other nutritious mix-ins. The rest of my family either has cereal, oatmeal, or yogurt.
Similarly, lunch is another meal that doesn't require much planning as we generally fend for ourselves. Sandwiches with homemade bread, leftovers from the night before, and fresh fruits and vegetables fill our mid-day plates. As long as the fridge and pantry are stocked with our breakfast and lunch staples, we can enjoy these first two meals of the day with very little planning.
Conclusion
There are many benefits of creating a meal plan including reducing stress, saving time, and possibly even saving money. You can try different lengths for meal plans and find one that works best for your family. If you'd like to plan your meals with pen and paper, you can download this free meal planning calendar. Whatever your reason for deciding to meal plan, you will reap the benefits when you put your plan into action.